Regular price
Sale price
$28.95
Unit price
per
Sale
Sold out
The Reef Tourer adult single-window mask is a low volume wide view mask with round edge silicone skirt, a one-touch buckle system, and tempered glass lenses. The snorkel features Hyperdry technology that reduces water flow into the snorkel, a drain chamber and purge valve for easy clearing, and a food grade silicone mouthpiece.
The set comes with a single-window mask, semi-dry snorkel, and black mesh bag. For teens and adults ages 10 years and over with small to medium faces.
Share
Care Instructions

Before Use: Gently scrub the inside of the mask lens using your finger with white toothpaste or a very mild liquid soap and rinse with clean water. This will remove the silicone layer that forms on the glass lenses during the production process which can cause increased fogging.

After Use: Rinse equipment in fresh clean water and dry thoroughly before storing. You can keep the mask and snorkel in the mesh bag and dunk the entire bag under fresh water and hang the bag up to dry. Take care that any purge valves or snorkel tops are free from sand and debris that can cause leakage.

Storage: Store in a cool dry place away from heat and sun.
Dimensions

Mask: 6.5x4.5"

Snorkel: 15.x5.5x1"

Mesh Bag: 17.75x9"
Warranty

3-YEAR/36 MONTH WARRANTY: Warranty guarantees against any defect in workmanship.
View full details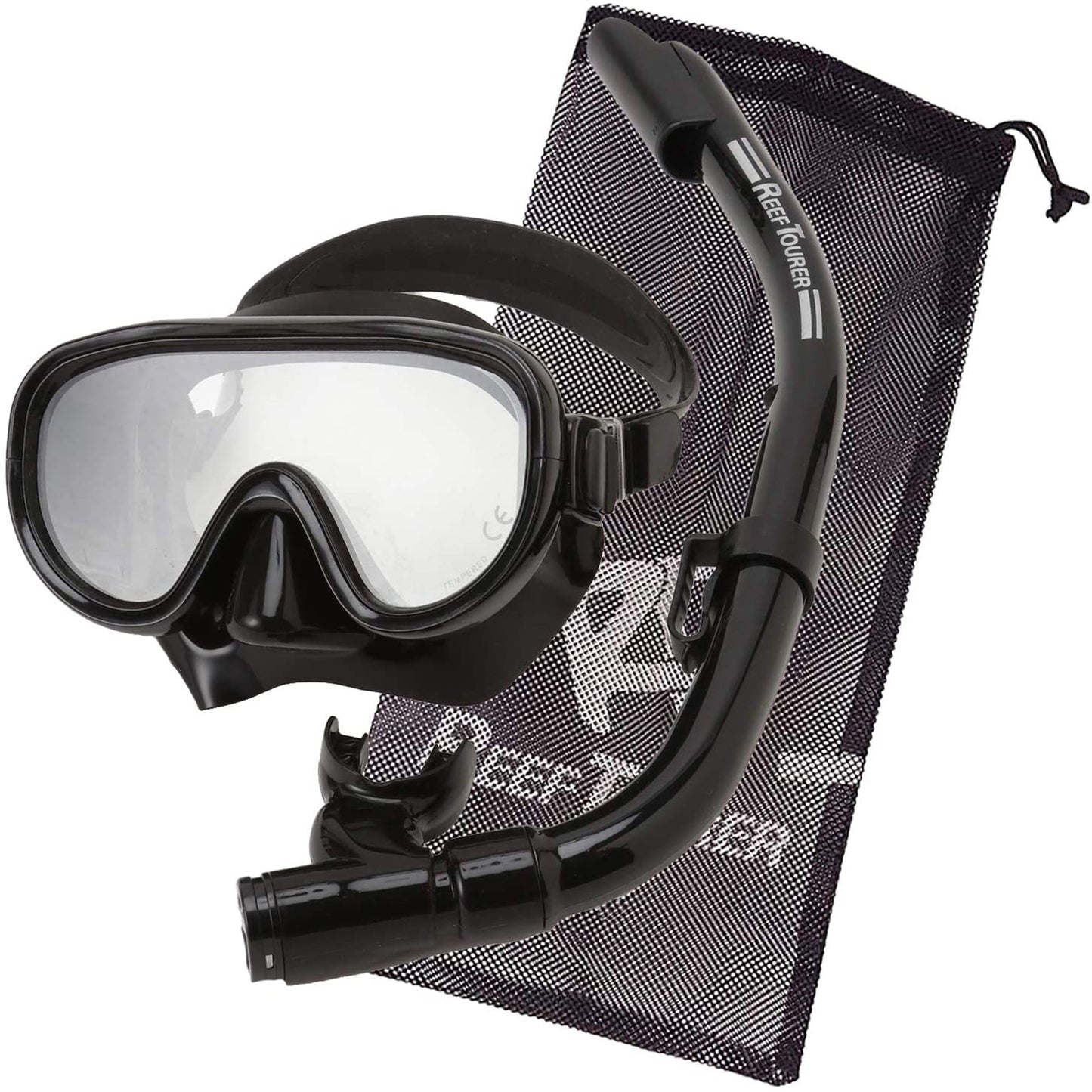 The perfect adult mask and snorkel set for your next snorkeling adventure!
Simple to use, reliable, and comfortable. The Reef Tourer adult single-window mask and snorkel combo set is one of the most affordable and worry-free water sports gear items you can own.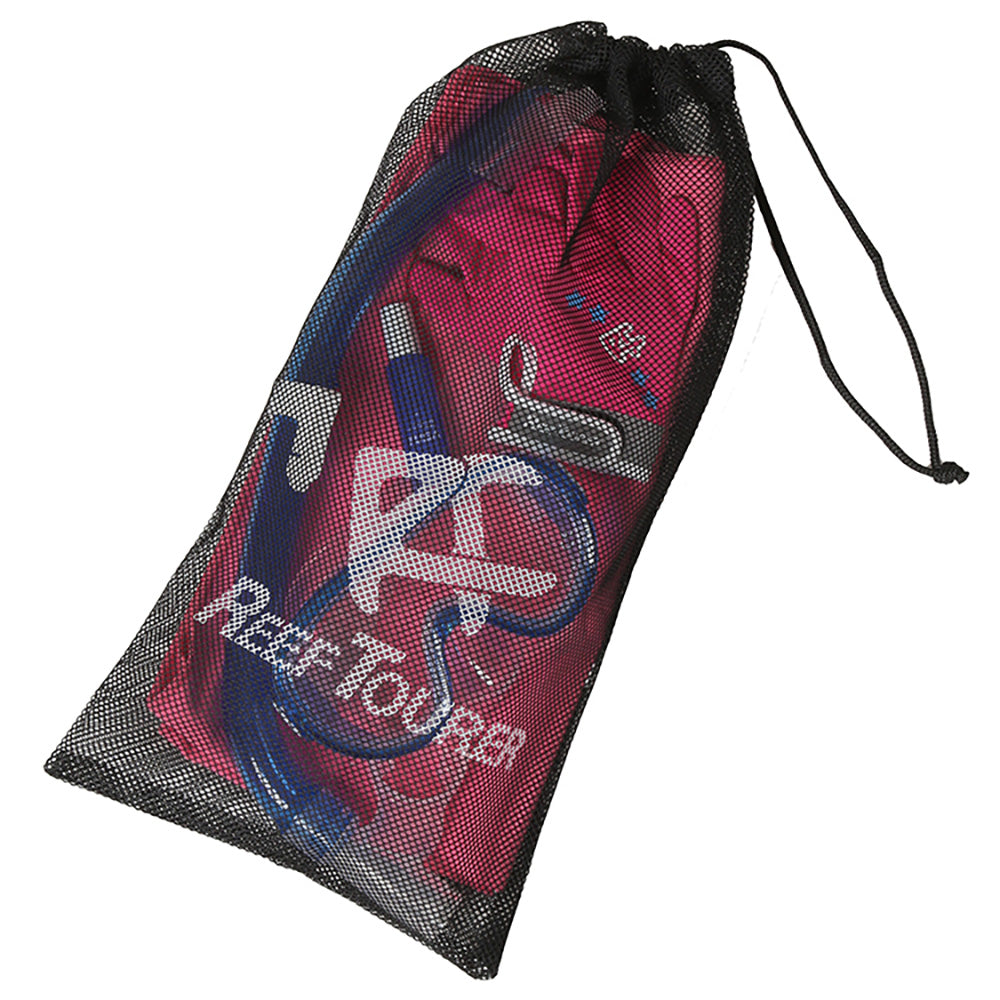 Travel Friendly
Comes with a travel friendly mesh bag to easily tote your snorkeling gear around. Conveniently rinse off saltwater from your gear and dry it off in one easy bundle.
Large enough to fit your mask and snorkel set and additional items you may need to carry.
Features a drawstring closure with an ellipse cord lock to ensure your mesh bag stays closed.
Wide Ultra Clear Viewing

The crystal-clear tempered glass lens is scratch resistant, has safety impact protection, provides superior clarity, color, and light transmission.

Super Soft Comfort Fit

The low volume double seal mask skirt is made from the highest quality silicone, fitting many different faces maintaining a water-tight seal.

Semi-Dry Snorkel

Features a splash guard to reduce water intake for easy breathing. The vents and covers angle and direct the water away from entering through the snorkel opening.

High Flow Purge Valve

The one-way valve at the bottom end of the snorkel allows you to easily clear any residual water from the snorkel tube by gently exhaling the water through the valve.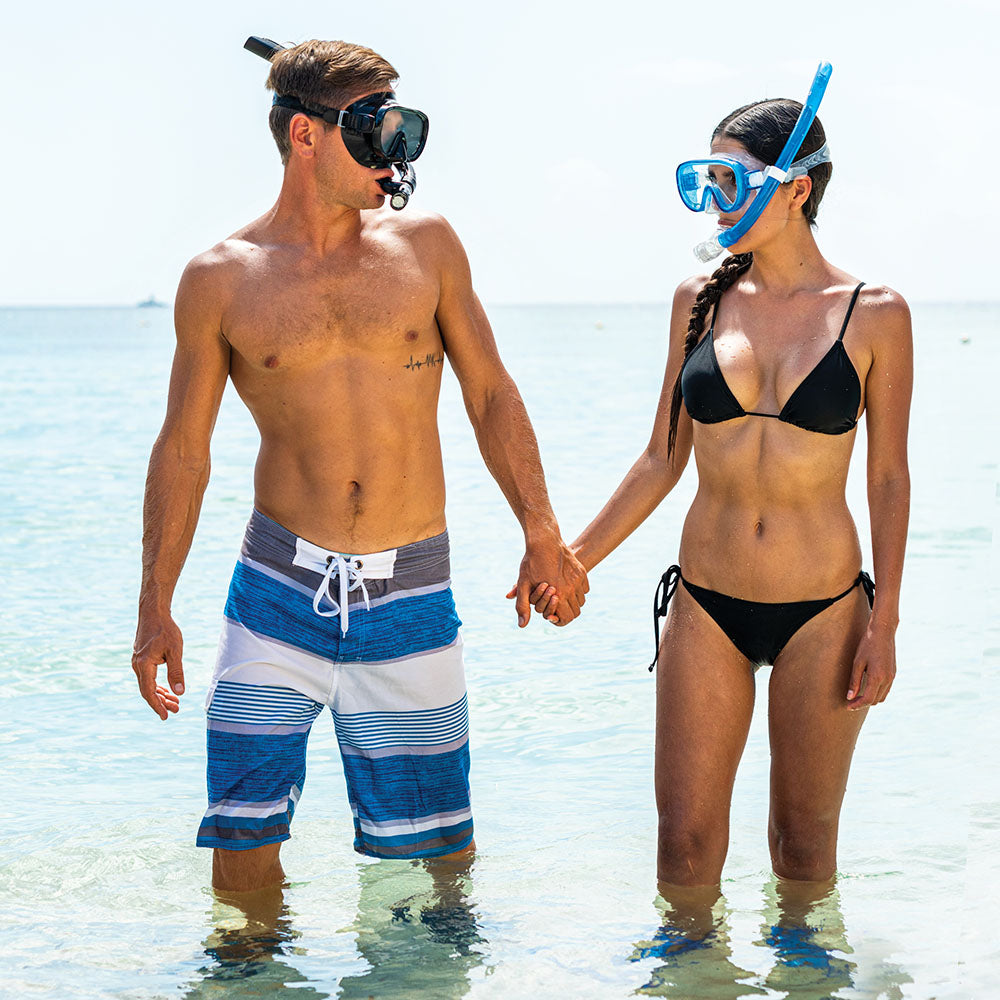 High Quality Silicone
The mask skirt and snorkel mouth piece is made of high quality, food grade silicone.
The durable and long lasting silicone is very soft and comfortable, allowing you to snorkel for many hours at a time.